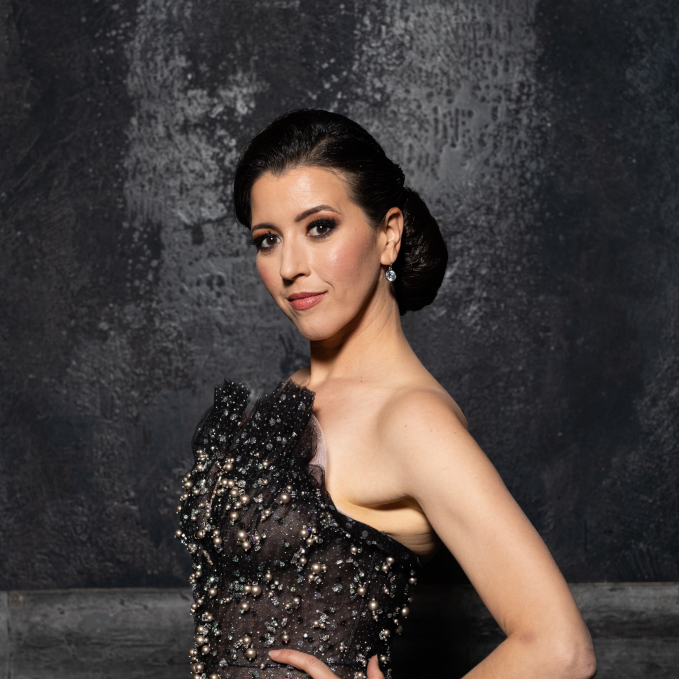 Festa della Repubblica: Lisette Oropesa in concerto
In occasione del 75° anniversario della Festa della Repubblica, Lisette Oropesa esegue un concerto speciale per celebrare il ricco patrimonio musicale italiano, accompagnata dalla pianista Justina Lee.
Discorso di apertura di Armando Varricchio
Ambasciatore d'Italia negli Stati Uniti
PROGRAMMA
Gioachino Rossini
Una voce poco fa
Vincenzo Bellini
Malinconia, ninfa gentile
Vanne o rosa fortunata
Almen se non poss'io
Giacomo Puccini
Quando m'en vo
O mio babbino caro
Giuseppe Verdi
Stornello
Ah fors'è lui…Sempre libera
LISETTE OROPESA
Lisette è nata a New Orleans, in Louisiana, da genitori cubani, e ha suonato il flauto per 12 anni prima di iniziare i suoi studi di canto alla Louisiana State University. Dopo aver vinto le audizioni del Met Opera National Council, è entrata nel Lindemann Young Artist Development Program e si è trasferita a New York. Ha cantato il suo primo ruolo importante, Susanna, ne Le Nozze di Figaro al Metropolitan Opera (Met) all'età di 22 anni, e da allora si è esibita lì in oltre 100 rappresentazioni in molti ruoli diversi. Da quando si è diplomata nel 2008, è diventata una delle cantanti più celebri della sua generazione, sia per le sue doti canore che per la sua storia personale. Appassionata di running, Lisette ha completato 6 maratone ed è un'attiva sostenitrice di fitness e di uno stile di vita salutare e del fitness. Lisette interpreta regolarmente ruoli da protagonista nei più importanti teatri d'opera del mondo. Recentemente ha trionfato come Manon nel capolavoro di Massenet al Metropolitan Opera, e per La traviata, è apparsa con grande successo in numerose produzioni al Met, al Teatro Real de Madrid, al Gran Teatre del Liceu di Barcellona e, più recentemente, in un film-opera, diretto da Mario Martone, e prodotto al Teatro dell' Opera di Roma. I suoi ruoli più interpretati sono Lucia di Lammermoor, Violetta ne La Traviata, Gilda in Rigoletto e Konstanze in Die Entführung aus dem Serail. Conosciuta per il suo legato fluido, l'intonaziona perfetta, l'integrità stilistica, la coloratura precisa e la recitazione superlativa, Lisette è una delle voci liriche più richieste oggi, eccellendo nel repertorio del belcanto, Mozart e compositori francesi. I suoi prossimi appuntamenti includono nuovi ruoli e debutti, concerti e graditi ritorni in molti amati teatri.
JUSTINA LEE
Originaria di San Francisco, la pianista Justina Lee è stata assistente direttore d'orchestra, pianista e coach per compagnie come la Metropolitan Opera, la Washington National Opera, la Seattle Opera, l'Opera Theatre di St. Louis, il Castleton Festival e la Wolf Trap Opera Company.
Ha anche collaborato in recital con Lawrence Brownlee, Alyson Cambridge, Dimitri Pittas, Alex Richardson, Gordon Hawkins e Linda Mabbs. Si è esibita nel programma di residenza patrocinato dalla Marilyn Horne Foundation, nelle serie On Wings of Song, Harriman-Jewell Series, Chateauville Foundation, al Kennedy Center con Washington Performing Arts e, più recentemente, con Mr Brownlee in VOICES di Renée Fleming. Justina è stata pianista per le masterclass con Joyce DiDonato nell'ambito del Weill Music Institute della Carnegie Hall trasmesso dal vivo su medici.tv. È tra i professori del Festival musicale delle notti estive di Praga.
Lee è stata una studentessa del prestigioso programma Lindemann Young Artist Development Program presso il Metropolitan Opera e ha conseguito lauree presso l'Università della California, Los Angeles e la Manhattan School of Music. Dal 2008, è tra i docenti dell'Università del Maryland e attualmente è Principal Coach del Maryland Opera Studio.
Credits: Stefano Guindani