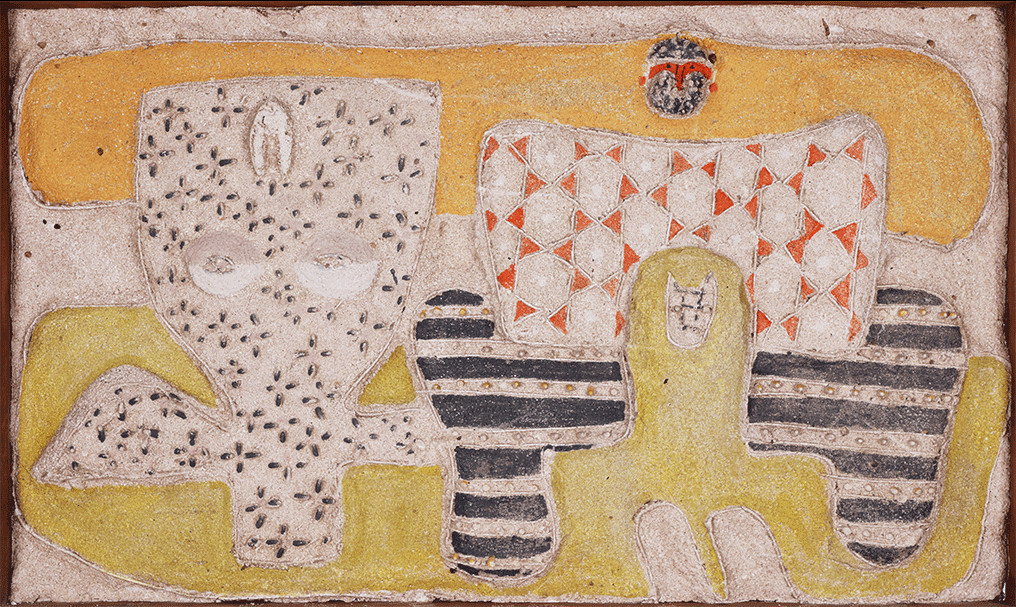 "Nivola: Sandscapes" at Magazzino Italian Art
The Embassy of Italy is pleased to support the exhibition "Nivola: Sandscapes" on view at Magazzino Italian Art from May 8, 2021 to January 10, 2022, curated by Magazzino's 2020-21 Scholar-in-Residence, Teresa Kittler, with Chiara Mannarino, and organized in collaboration with the Nivola Foundation.
"Nivola: Sandscapes" is dedicated to the work of artist Costantino Nivola, Sardinian born and longtime resident of Springs, NY. Featuring a selection of approximately 50 works from the early 1950s to the 1970s, including sandcast reliefs, carved concrete sculptures, and rarely seen maquettes of his most important architectural commissions, this special exhibition will explore Nivola's pioneering process of sandcast sculpting and will examine the range of influences and notable impact that the artist had on modern urban architecture and design. On view are a number from his most notable projects, including the iconic Olivetti Showroom on 5th Avenue, the Bridgeport Post, the Bolling Federal Building in Kansas City, the Janesville Gazette and the William E. Grady Vocational High School in Brooklyn.
"Costantino Nivola's vision could not be more relevant to the times, as he used his artwork to humanize public spaces and urban landscapes and to engender a sense of civic identity and community," says Ambassador of Italy to the United States, Armando Varricchio. "Through this exhibition, which aptly reflects Nivola's artistic trajectory from the heart of Sardinia to New York City, Magazzino provides us, once again, with a very welcome opportunity to further foster cultural exchanges between individuals and communities in Italy and the United States."
"At Magazzino, we aim to open a dialogue of artistic exchange between the U.S. and Italy. Nivola is a seminal figure in the history of Modernism, while also serving as a dynamic case study in understanding the experience of Italian immigrants to America in the Post-war period," says Director Vittorio Calabrese. "The exhibition examines the inspirations that informed his artistic practice, including his use of Sardinian iconography, his formal design training, and his interest in creating artwork engaged with American culture. We are considering Nivola in light of our current moment, on the precipice of significant change that requires us, as a museum and a society, to advocate for the importance of art and artists in civic life."
"This is the story of an Italian refugee who made America his home, finding kindred spirits among a community of artists and architects including Le Corbusier and Willem de Kooning," says exhibition curator Teresa Kittler. "Nivola was energetic and hands-on in that community; his work was in part defined by the friendships he made and through his experimental living and working arrangements. Much of his best-known work engaged with a version of modern art and architecture that was public-facing and grounded in collaboration; and invested in the integration of art and architecture."
"This exhibition highlights Nivola's quest for identity and his global vision, the coexistence in his work of a Modernist legacy and postmodernist insights, his double interest in form and community ideals," says the president of the Nivola Foundation, Giuliana Altea.
"During the show, a welcome thread will unite Orani and New York," says director of Museo Nivola, Antonella Camarda. "The pandemic drifted the two sides of the Atlantic Ocean apart, Nivola is bringing us together again."
For more information click here.
About Costantino Nivola
Known for his large-scale architectural reliefs, Costantino Nivola (1911 – 1988) was a sculptor, painter, designer, and teacher. Born in Orani, a village in the Italian island of Sardinia, he worked with his mason father before taking up an apprenticeship with the artist Mario Delitala. In 1931, he won a scholarship to attend the Higher Institute for Artistic Industries at Monza (ISIA), where he studied under the tutelage of Marino Marini and Giuseppe Pagano, among others, and contributed to the Milan Triennale in 1936 and the Italian Pavilion at the Paris Exposition in 1937.
Nivola began his career in 1936 working as a graphic designer for the Olivetti company in Milan. In 1938, he and his wife, Ruth Guggenheim, a fellow student at ISIA, fled fascist Italy for Paris before emigrating to New York City in 1939, where they set up a home in Greenwich Village. The couple quickly became part of its flourishing art scene, counting artists such as Jackson Pollock, Lee Krasner, and Saul Steinberg among their close friends. Supporting himself as he could, Nivola eventually became art director for several architectural magazines. In 1948, they bought a farmhouse in Springs on the East End of Long Island, which became a renewing source of inspiration for Nivola.
Nivola's first major commission was for the Olivetti showroom on 5th Avenue, and this was quickly followed by a series of large-scale commissions for architectural projects. Throughout his life, Nivola was also committed to art and design education, and held posts at the Harvard Graduate School of Design, Columbia University, Dartmouth, and Berkeley. He exhibited his non-commissioned work regularly in both the U.S. and Italy. For more information visit https://www.museonivola.it/en/.
About Teresa Kittler
Teresa Kittler is a lecturer in Modern and Contemporary Art at the University of York, UK. Her research focuses on artistic practices since 1945 with a special interest in Italian postwar art. She has been the recipient of fellowships from the British Academy, Leverhulme, the British School at Rome, and the Center for Italian Modern Art (CIMA). Her work has been published by Oxford Art Journal, Bloomsbury, and Peter Lang, amongst others. She has written on Marisa Merz for catalogues accompanying the exhibitions Marisa Merz: The Sky is a Great Place (Los Angeles Hammer Museum & Metropolitan Museum of Art, 2017) and Entrare Nell'Opera (Kunstmuseum Liechtenstein, 2019), and on Carla Accardi for the catalogue accompanying senzamargine. at the MAXXI (2021). She also worked as Assistant Curator for the 10 Gwangju Biennale (2014) and as a curatorial assistant for Alighiero Boetti: Game Plan (Tate Modern, 2012).
Costantino Nivola, 'Untitled,' 1953, sand-cast, 30.8 x 50.1 x 2.6 in. Family of Costantino Nivola. Photo by Marco Anelli.