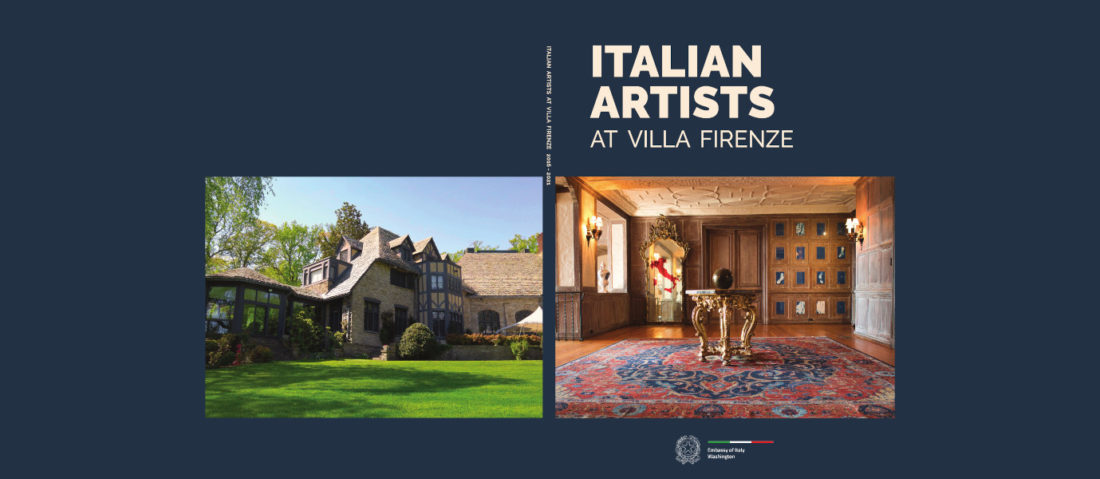 Italian Artists at Villa Firenze 2016 – 2021
On the occasion of the celebrations of 160 years of diplomatic relations between Italy and the United States, the Embassy of Italy is delighted to present the catalog "Italian Artists at Villa Firenze", celebrating 5 years of this exciting project.
Upon their arrival in Washington DC, Ambassador Armando Varricchio and Mrs. Micaela Varricchio, inaugurated the series "Artists in Residence at Villa Firenze" to provide Italian artists with an exceptional space to explore the new frontiers of contemporary artistic research through the creation of site-specific exhibitions and installations. On the backdrop of these exhibitions, is the Residence's superb collection of Italian art and design, constantly enriched through rotating loans in collaboration with major Italian art institutions in Italy and the United States.
The story of Villa Firenze begins in 1925, when Mrs. Blanche Estabrook Roebling O'Brien, and her husband, Col. Arthur O'Brien, purchase 22 acres in the heart of Washington, DC's Rock Creek Park. The couple contracts architect Russell O. Kluge and designer H.F. Huber to build a mansion on the site. The Tudor-style structure in gray fieldstone is completed in 1927 and christened Estabrook, after Mrs. Blanche's last name. It immediately becomes a meeting place for Washington's high society and hosts some of the city's most prestigious events and receptions with prominent guests, including then-President Hoover. In 1930, the property becomes the Residence of Ambassador John Peleny heralding the villa's diplomatic future. In 1941, the mansion is sold to Col. Robert Guggenheim and his wife Polly. A devote of Italian art, Col. Guggenheim rechristens the villa with the name of his mother, Florence. Villa Firenze is born. Thanks to Polly Guggenheim's keen and sophisticated eye and the Guggenheim's community involvement, the mansion remains one of the most sought-after venues of the city's social scene. In 1976, Polly Guggenheim Logan sells the property to the Government of Italy. In 1977, Villa Firenze becomes the official Residence of the Ambassador of Italy to the United States of America. Since then, it is among the most prestigious diplomatic residences in the city.