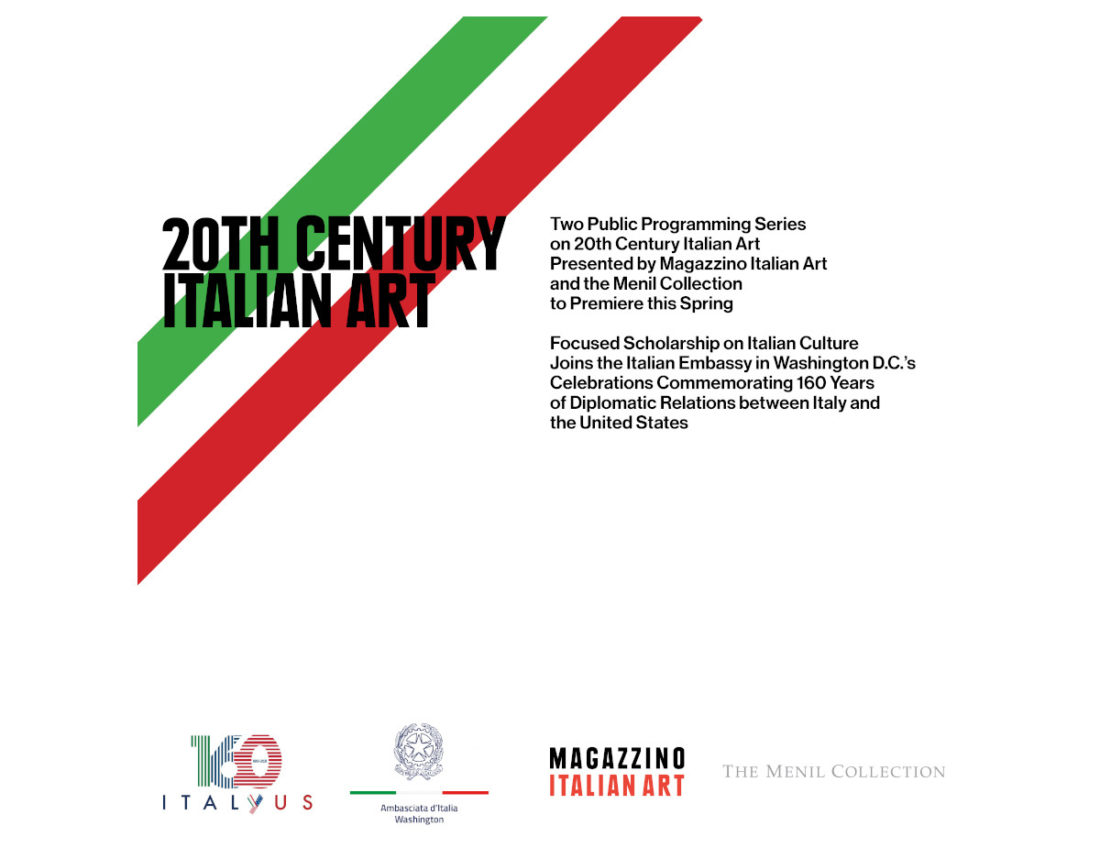 SPRING OF SCHOLARSHIP ON 20TH CENTURY ITALIAN ART
This spring, Magazzino Italian Art and the Menil Collection, two museums based in the U.S., will premiere discrete public programming series examining the contributions of Italian artists in the 20th century. Joining efforts of the Italian Embassy in Washington D.C. to commemorate 160 years of diplomatic relations between Italy and the United States, these scholarly lectures will add to the year-long celebration examining the past, present, and future ties between the two countries. This forthcoming programming – available via live-stream – creates a dynamic opportunity for audiences to gain an in depth understanding on diverse aspects of Italian art. All programs are free and open to everyone.
"In the 20th century, Italy generated a plurality of revolutionary, highly innovative, artistic styles, which profoundly impacted the international art scene in countless ways, sparking meaningful creative exchanges across the Atlantic." says Ambassador to Italy, Armando Varricchio. "We are very grateful to Magazzino Italian Art, the Menil Drawing Institute and all participating partners and scholars for helping us recount this fascinating and meaningful story and shed light on the men and women who shaped it—yet another captivating facet of the extraordinary relations between Italy and the United States, which we celebrate this year in our 160 years anniversary."
Starting on March 20 through May 1, 2021, Magazzino Italian Art will present Arte Povera: Art of Collaboration, a series of four lectures presented virtually. Marking the third iteration of the museum's annual program, this year's scholars will delve into the friendships and partnerships within Arte Povera to consider and highlight the contributions women have made to what has been conventionally understood as a maledominated movement. Curated by Magazzino's 2020-21 Scholar-in-Residence Teresa Kittler, Arte Povera: Art of Collaboration will explore how different forms of collaboration have shaped the Arte Povera movement. Speakers will include Professor Lucia Re, Dr. Sharon Hecker, Dr. Teresa Kittler, and Dr. Leslie Cozzi.
Each lecture will reflect on the ways dialogue and reciprocal ways of working transform our understanding of artistic practice; ask whether it is possible to think beyond the trope of the 'muse' when addressing the contribution of women as partners in the work of this period; and consider how exchanges with partners and critics visibly shaped the work of well-known male figures. These questions are explored through case studies that include the artistic duo Mario and Marisa Merz—the only couple officially recognized as belonging to Arte Povera—alongside more informal exchanges such as that between Alighiero Boetti and Anne-Marie Sauzeau Boetti, and the longstanding friendship established between Luciano Fabro and the art critic, Carla Lonzi.
For more information on Magazzino's lecture click here
In conjunction with the Menil Collection's current exhibition at the Menil Drawing Institute, Silent Revolutions: Italian Drawings from the Twentieth Century, the museumwill hold a three-day online symposium on modern Italian drawings from April 7 – 9, 2021. Silent Revolutions: Italian Drawings from the Twentieth Century is the first large-scale survey of 20th century Italian drawings mounted in the United States. The exhibition, presenting works from the Collezione Ramo in Milan, features 70 drawings by Umberto Boccioni, Alighiero Boetti, Giorgio de Chirico, Lucio Fontana, Jannis Kounellis, Maria Lai, Carol Rama, and others. This exhibition explores how through drawing, Italian artists experimented with wide-ranging materials and techniques, creating new artistic concepts and styles, and tackled themes as varied as history and myth, language, subjectivity, the body, the modern city, space, and abstraction.
This symposium is organized by Edouard Kopp, John R. Eckel, Jr. Foundation Chief Curator, Menil Drawing Institute; Irina Zucca Alessandrelli, Curator, Collezione Ramo; and Saskia Verlaan, Menil Drawing Institute Pre-Doctoral Fellow. Speakers will include Emily Braun, Silvia Bottinelli, Teresa Kittler, Lucia Re, Irina Zucca Alessandrelli, Raffaele Bedarida, and Francesco Guzzetti.
To participate in the Menil Drawing Institute's Symposium:
Keynote Lecture with Emily Braun – Apr 7, 12-1pm
Panel on Women Artists – Apr 8, 12-1:30pm
Panel on the Interconnections Between American and Italian Artists – Apr 9, 12-1:30pm