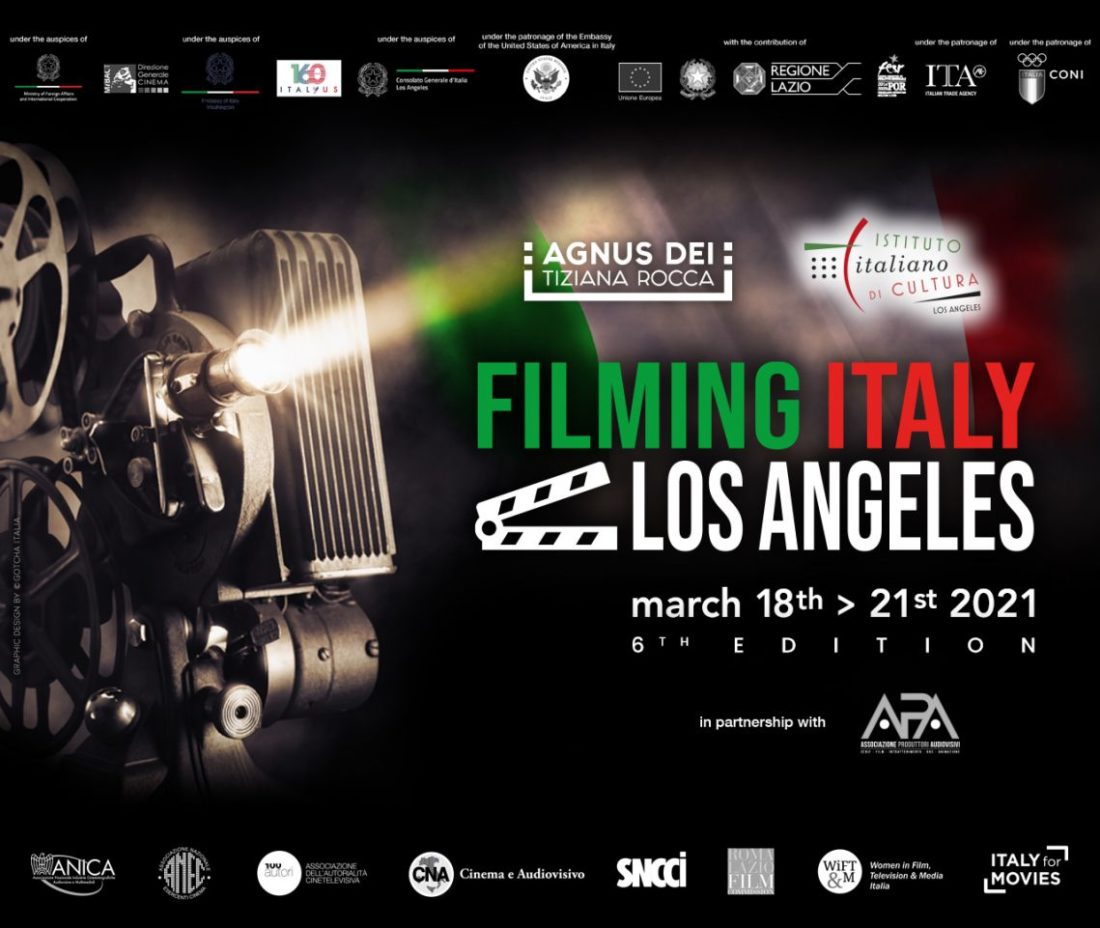 FILMING ITALY LOS ANGELES
The sixth edition of the Festival "Filming Italy – Los Angeles" will take place in a digital format, with a very rich selection of both US film premieres and TV series focusing on important issues such as the protection of human rights, the empowerment of women in the work place, especially in Cinema, and the preservation of the environment. Renown Italian and international actors and directors will discuss, within masterclasses, the future of the film and television sector and its restart after the closures due to the pandemic. Claudia Gerini and Harvey Keitel are Honorary Presidents of the Festival. Special opening remarks will be delivered by Armando Varricchio, Ambassador of Italy to the United States.
"By including this initiative in the celebrations for the 160th anniversary of bilateral relations between Italy and the United States we wish to recognize the central role that cinema has played, over the years, in strengthening the strong friendship between our countries. Countless stories, images, faces and landscapes told with the inimitable force enclosed in film have marked the deep relationship between Italy and the US and shaped the popular culture of our societies. In these complex moments, we will have the opportunity, through this Festival, to reflect on issues of great relevance: from gender equality to the future of the young generations. I am particularly pleased that we will benefit, once again, from the wisdom and knowledge handed down to us by Dante Alighieri thanks to the initiatives dedicated to the "Supreme Poet" within the Festival," says the Ambassador of Italy to the United States, Armando Varricchio.
This Festival was created and organized by Agnus Dei and by the Italian Cultural Institute in Los Angeles to promote Italy as a film set and bridge between Italian and American culture as well as to support the internationalization of Italian audiovisual products and collaborations between Italian and American directors, producers and artists.
ORGANIZED BY: Agnus Dei and Italian Cultural Institute in Los Angeles
IN COLLABORATION WITH: APA (Associazione Produttori Audiovisivi) under the patronage of MAECI and MiC and the auspices of the Embassy of Italy in Washington DC and the Consulate General of Italy in Los Angeles
WHERE: Webinar online
WHEN: From Thursday, March 18, 2021 to Sunday, March 21, 2021
EVENT LANGUAGE: English